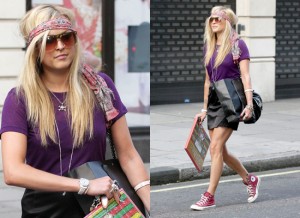 Celebrity trend setters still manage to look good whilst getting to the Gym, so what can you do to get that casual look and still be able to get a good work out? So many celebrities manage to pull off the casual look on their way to the gym. They all manage to tie together their cool looks with practical yet stylish footwear so how about pulling on some new sneakers?
Check out UK Style icon Fearne Cotton showing us how to pull of the cons look.
Although not quite the thing you want to run a treadmill with, Katy Perry proves that not just Mrs. Beckham can be sporty and flawlessly pulling off some skyscraper wedges by Adidas.
I can see a bit of a contest at the moment between Adidas and Converse with both of them releasing new lines of women's shoes.
We spotted these new Adidas Originals Concord Round over at Zalando. The shoe is a casual but elegant urban women's shoe, and a perfect solution to keeping fit and on trend. The low cut shoe has a soft leather upper and flashes the Adidas 3 stripe in a cool mirrored finish. These are the perfect women's shoes for someone wanting to look great and be able to keep up with their sports and fitness. Perfect for gym wear or for games, so a girl can really look their best whilst working out. Converse releasing their new customizable low top Chuck Taylor All Star Ox Satin range which is bold, bright and stylish, made with shiny patent leather in a range of colours, you can create your very own look to really tie together your GYM outfit. The new range holds just the right amount of over the top style and coolness to pull of the same sort of casual look as the celebs.
I feel that the difference between the shoes is all in the approach of each girl's use of their style. If you want to go for the more serious sports approaches but still maintain your femininity and also keep up appearance on court or track then Adidas are the shoes for you. Though if you are into a more bold statement and cool urban style or even if you're little bit more light-hearted about your gym experience then Converse are the shoes for you - plus they are still incredible functional so you can really enjoy your work out. So take a look at these sports shoes and rock that casual gym cool too.
---
Andra inlägg